The world has changed. It's time for a different approach. From a different kind of offering. It's time for Noknok. Noknok, founded by Niamh O'Kennedy, is a marketing and advertising consultancy business that creates the marketing solutions you need at a price that makes sense for your brand and your budget.
Noknok was founded on the principle that Ideas Open Doors. Whether it is doors to new opportunities, doors to new customers, doors to new connections, doors to a new way to imagine your brand, doors to a new advertising campaign, Noknok can help.
Noknok draws on extensive experience and expertise in corporate and consumer marketing and advertising. The idea is that I can offer the strategic rigour of a marketing consultancy combined with the full service offering of a creative agency but operating in a collaborative agile fashion.
Noknok is the brainchild of Niamh O'Kennedy. I am a passionate commercially driven marketer with extensive brand building experience with over twenty years experience working at a senior level in agencies in London, Sydney and Dublin. Solving problems is what I do best. Let me know the business problem you're trying to solve and I will help you find the right solution.
I created Noknok in response to the changing world we find ourselves living in. I am excited to be bringing my experience and passion for marketing to Corporates and SMEs who can see the benefits of working with individuals and agile teams rather than agencies for all projects. I believe that collaboration is the way forward and I've established collaborations with creative partners, media partners, speaker and talent agencies (so we can partner brands with ambassadors), activation agencies, PR colleagues and more to make sure we offer our clients a fully rounded and best value solution. I have a number of different service offerings – some of which I do myself and others I will lead but in collaboration with the various partnerships I have set up.
Doors to: Better Services

The Complete Marketing Solution
At Noknok, I will not only create your marketing strategy and subsequent advertising or communications campaign but we can also implement and execute it. Read more>>

Brand Strategy Development
Evaluate current brand strategy, brand positioning and brand identity to ultimately develop a compelling brand story. Read more>>

Strategic Creative Communications Development
Develop strategic communications campaign to bring the brand story to life. Read more>>

Advertising Consultancy
Advise clients on their advertising strategy and liaise with UK agencies to ensure relevant for the Irish market. Read more>>
Doors to: Better Thinking
Changing the way a person thinks can do more than just change the way they behave. Thanks to a natural process called Neuroplasticity, new thinking can change the actual structure of their brain. And the amazing thing is, it happens every day. Our brain changes and rebuilds itself in line with new habits and new ideas. At Noknok, we are going to show you how to use the concept of neuroplasticity to create more powerful and meaningful brand messages than you ever thought possible. Not based on opinion and conjecture but on the latest scientific thinking.  This is marketing 2020. This is Noknok.
Doors to: Significant Savings
Pay for only the services you need
A bespoke team only as required
No expensive overheads
Years of experience means faster turnaround
With Noknok, you get access to experienced talent 24/7, with extensive experience in growing brands
The right marketing team for your business challenge, carefully selected for your needs
Access to a network of creative talent that can be drawn only when required, quickly and efficiently.
Noknok has collective experience of developing b2b and b2c campaigns for numerous global and local brands in almost every industry sector including retail, FMCG, health & wellness, financial, motoring, pharmaceutical, government, charity.
Selection of previous clients include:Boots, Ford, Visa, Ulster Bank, Heinz, GSK, Diageo, Irish Distillers, Guinness Storehouse, Cadbury, Danone, UCD, UCC, Kelloggs, Bayer, Glenilen Farm.
"Words such as professional, deliver, high standard, honest, creative, insightful, passionate, determined only partly go to describing Niamh and what she brings to the table with regard to creative execution and delivery of projects, from large to small. I worked with Niamh from 2015 and she was a central pillar in the delivery of the Ford Motor Company Brand in Ireland from then to 2019. In that time, she helped and drove the delivery of key projects including the 2017 Ford 100 Centenary Campaign, the Ford Mustang Run event, both of which with international recognition and reach along with the Ford Quercus Sponsorship, Marymount Hospice Light Up A Life Campaign as well as creating a new brand breakthrough theme as well as multiple tactical national campaigns in the same period. Niamh's work to detail is of an incredibly high standard and from a client perspective, who often overlook the challenges and obstacles we set through our creative and strategy demands, Niamh's resilience to deliver the task within those very obstacles at times and to the standard expected and demanded by Ford Motor Company, was top class. Above all else, Niamh is the personification of a Team player with a drive and ethic that inspires a 'can do' attitude in all who work with her. I have no hesitation in recommending Niamh in either capacity of Agency or indeed Client given her ability to be able to see both sides of the table so to speak, not everyone has that capacity. Her temperament and leadership skills have always been something we admired here at Ford and is a credit to her in how she conducts business in what is a very high octane, intense business environment. The above examples of end products are only a snippet of the overall delivery of projects Niamh did for Ford, I am happy to share others or supply more detail on this list. In short, she is a top class operator and someone from my perspective that you can absolutely trust to get the job done."
Niamh recently delivered a Marketing and Institutional Branding workshop for arts organisations participating in our RAISE programme for the Arts Council. She was hugely engaging and insightful and the content was really useful. The feedback was overwhelmingly positive with one attendee sharing "Niamh was really interesting in sharing her perspective especially from client-side but also in reminding us that no matter what size we are, we can apply some of those bigger institutional marketing concepts to our work.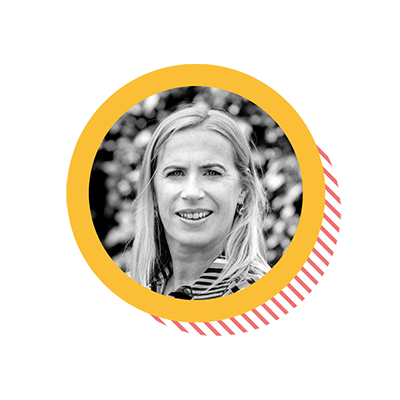 Niamh O'Kennedy is the Founding Director of Noknok. I have over twenty years experience influencing brand strategy for numerous brands in a variety of different industry sectors. Whether you want help to grow your brand, to grow your customer base or to review your marketing, communications and advertising strategy, I can help.
I love solving problems and finding the right solution for your brand. I have extensive knowledge of marketing, branding, advertising activations, business development and no problem is too big or too small. I can work as an outsourced marketing resource or on a project / consultancy basis and have a range of packages available depending on your needs.
Through my established collaborations with key creative people, together we can offer the full service offering of a creative agency. We have years of experience working together and developing successful award-winning campaigns for global brands. We look forward to working with you to deliver on your brand ambitions.
We are happy to work with global brands, SMEs, advertising agencies. 
We can work as part of your internal team for a specific project or work on a longer term basis with you.
Just call us for a consultation and we can go from there!